Weeping and Cascading Laceleaf Maples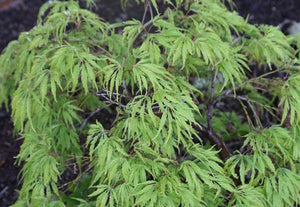 The dissectum leaf is wonderful for soft textural interest and the curving form creates a beautiful structure. Every garden needs at least one.
Extemely fine dissectum leaf,very slow growth,
Finely cut, billowy form, orange red spring
Extremely fine cut red laceleaf.
Old red dissectum,heat tolerant,vigorous
Emerald green spring, red fall, small dissectum leaves, horizontal growth.
Very fine bright green foliage.
Very low,curving branches,green
Subtle mauve spring,finely dissected leaves
Vigorous dissectum, orange spring
Best red dissectum small and slow
Best red dissectum small and slow
Name means 'Tribute to the Mountain', old red dissectum, vigorous grower
Variegated laceleaf, pink in spring, striped bark
Pale green,soft flowing growth
Pale green cascading branches, soft lax leaves
---